Easy Date Nights in a Jar
February 1, 2016, BY Emma Craig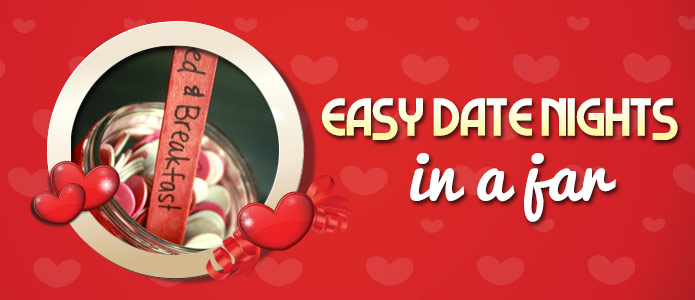 Do you have a Friday night free and want to do something with your husband or boyfriend but can't come up with any ideas? That's where the
Date Night Jar
comes in handy. This makes a great
Valentine's Day
idea if you are looking for inexpensive gifts that have meaning. This is definitely the Valentine's Day gift that you can both get some use out of! Create your very own with just a jar, some Popsicle sticks and some paint. Spray your Popsicle sticks with
three different colours
, I chose red, pink and white for romance. Each colour will represent a
different type of date
. Then fill in various dates you would like to do together onto the matching colour stick. Here are some ideas I came up, and of course you can add your own!
Red Sticks – More expensive dates that require planning
– A Weekend Getaway – Stay at a Bed and Breakfast – Comedy Night – Dinner at a Local Restaurant – Visit a Winery – Night at a Hotel – Sporting Event and Pub Dinner – Concert and Dinner – A Weekend Getaway – Treat Yourself to a Couples Massage – Dinner Cruise – Murder Mystery Dinner Theatre – Balloon Ride – Afternoon of Golf
Pink Sticks- At Home Dates
– Fondue – Take out and a board game – Puzzle and Pizza – Hockey and Nachos – Popcorn and a Chick Flick – Crosswords and Breakfast for Dinner – Bubble Bath for Two – Make a Time Capsule to be opened 10 years from now – Cook Dinner Together – Plan Your Next Vacation Together – Make a Scrapbook
White Sticks- Inexpensive Away from Home Dates
– Dessert Only Date – Coffee Date – Bowling – Window Shopping – Laser Tag – Drive-In Movie Theatre – Dinner and a Movie (each chose one) – Pub night with live music – Brunch and a Matinee – Picnic in the Park – Ice Cream and an Evening Walk – Visit a Museum or Art Gallery – Swimming or Skating at Your Local Community Centre – Walk through open houses/model homes and get inspired for the future – A bike ride or a hike on nature trails
What other ideas can you come up with?